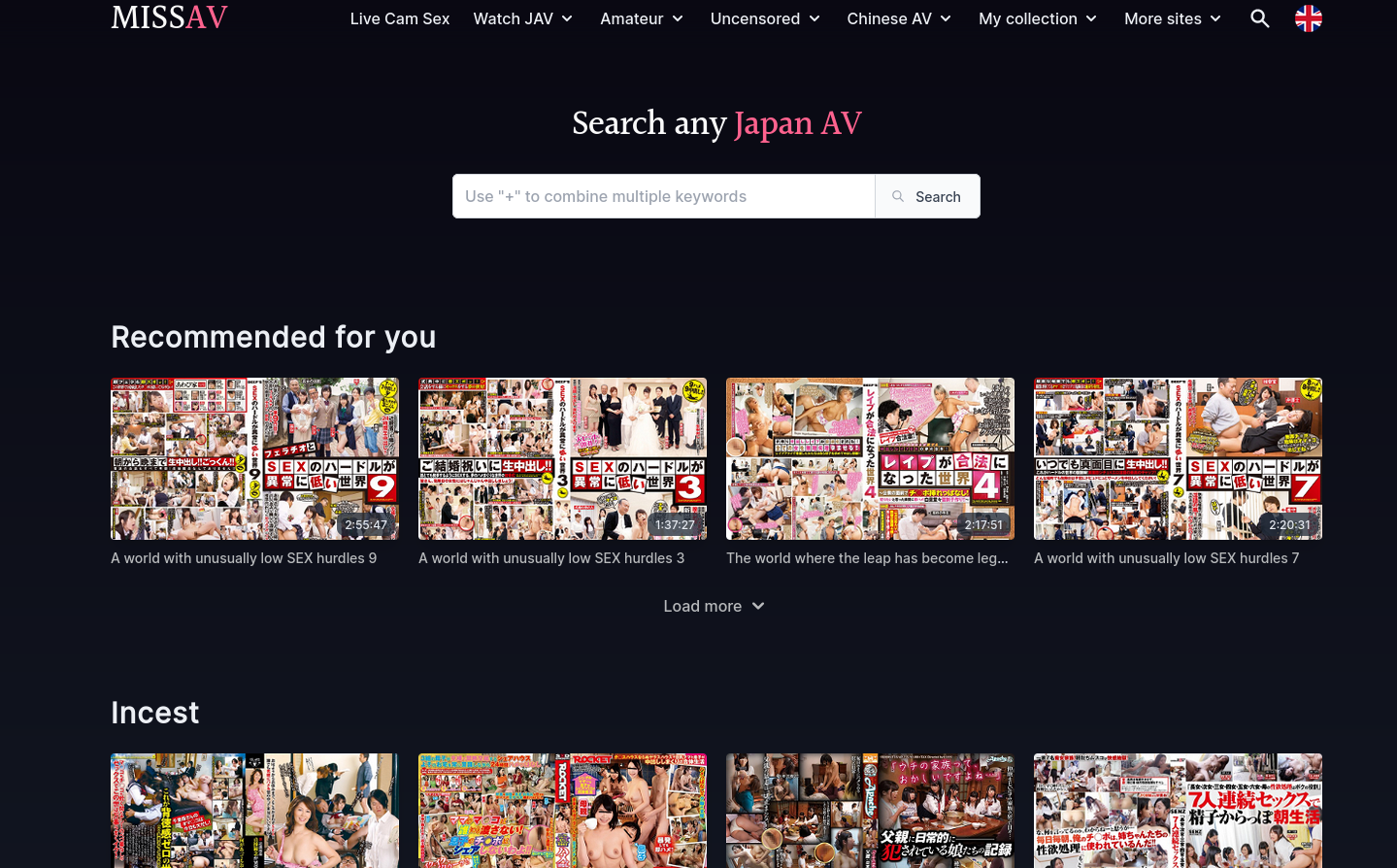 Interested in Japanese porn and looking for a good streaming website ? Let's check MissAV, one of the most popular JAV streaming websites.
If you're looking for a one-stop destination to explore and enjoy Asian entertainment from the comfort of your home, MissAV.com might be a good choice. MissAV.com is your gateway to a world of asian adult entertainment waiting to be discovered.
MissAV.com: Unveiling the Hidden Gem
MissAV.com is not your typical asian porn streaming website. It offers a treasure trove of Asian content, ranging from JAV movies to chinese porn videos. Let's take a closer look at what sets MissAV.com apart. The website's most recent uploads are displayed on the homepage, which is a good feature. The layout and style of this website are also above average. Although we believe it would be slightly better if they also included a "6 hours ago" type meta box underneath the title so we can actually see when it was published. We can say that they update frequently with new videos, which is quite great if you ask us. The most popular videos on this page were added within the previous month. You can actually see new content if you slightly scroll down.
Looking over Miss AV's categories
So if you are interested in a specific type of niche, Miss AV can help you get exactly what you want in your "genre" section. They work as categories and are pretty good overall. What's really cool is that Miss AV has around 100,000 videos available in total – that's a lot of porn! Niches include bukkake, incest, squirting, weight loss, massage, lesbian, etc. The only real gripe we have is that for some reason Miss AV only displays them in blocks and you can't scroll through them endlessly – you have to Click on the "Next" button if you want to discover more niches.They also don't have a featured image for niches, which they should probably add – we want to be easy on the eye.
Once you find a niche that interests you, click on it to see all scenes associated with that tag. Unfortunately, there is no sorting function here – everything is based on the upload date. Please allow ratings or views to be a way for us to explore content – this approach simply doesn't do anyone any favors!
The porn actresses of MissAV
Would you rather only show the content of a specific template? Good, no problem! Miss AV has prepared for you an "Actresses" section, which, as you probably guessed, is dedicated to all the Japanese porn stars who share videos on the site. Nowadays, with 100,000 downloads, almost every female artist in Japan probably has a stage here, but here we go: we'll just talk about the biggest names for reference. It's no surprise to us that Yui Hatano is the #1 girl based on videos:
, she has over 1000 offers on the platform and along with Aki Sasaki, Asahi Mizuno, Akari Mitani and Miku Abeno you will be very happy about it Discover them and enjoy them by sharing them with real world-class whores.The same applies here, just as with categories: once you have selected a template, you can no longer sort it according to parameters. Many cases like this!
Watching JAV porn on MissAV
Miss AV's videos are pretty high quality: at least 720p, although a fair share of 1080p if that's your thing. There doesn't appear to be a quality option, but you can change the playback speed if you're interested. The caching is excellent and all the videos we tried played without any issues. A big problem with competing JAV platforms is that their videos can slow down a bit after downloading for a while – that doesn't seem to be the case with Miss AV. They also use a lot of metadata like actresses, genres, studios, etc.
English subtitles not available
Miss AV has few subtitles (auto generated) in chinese, but doesn't offer english subtitles. Not even auto translated subtitles. Speaking of that, let us warn you that the vast majority of the free subtitles available online are crappy subtitles done by software. This is because the english translation is done as follow :
– Chinese subs done by doing a transcription of the japanese audio (if the audio isn't 100% very clear, no background noise, only one person speaking, there will be tons of error like Youtube's auto captions)
– Then, english subs are done by translating the chinese subs to english.
If you are looking for good english subtitles to watch your favorite JAV movies, check our subtitles. Feel free to contact us if you wish to translate and subtitle a full JAV movie, a Hentai Anime or Movie.