Shiho Nagisa, now Ruu Totsuka, is making her porn debut with the adult studio SOD.
"Entertainers" are undoubtedly the most useful elixir in Japanese AV. The most successful recent case is none other than Yua Mikami. Because of this, film producers often find some marginal actresses to make their debuts in the adult industry. Even if many of those actresses don't get big sales and leave the market without anyone noticing it, "SOD Star" announced this time that the "Entertainer Actress" Ruu Totsuka (十束るう), who used to be known as Shiho Nagisa (渚志帆), has a great future.
At the age of 6, she began working as a child actor. From her 20s onwards, she was mainly active as a stage actress. On October 1, 2022, she left R&K Productions and, in addition to working as a freelance actress and model, she also began releasing gravure videos under the name "Ruu Totsuka."
She announced that she would end her activities as Nagisa Shiho at the end of her stage play "Hokago Senki 2022" in December 2022, but she withdrew due to worsening cervical spondylosis. She enters a period of recuperation with block injections and a corset.
On July 31, 2023, she announced on her social media that she would be changing her active name to "Ruu Totsuka". She belongs to GG as Ruu Totsuka. She showed her first nude appearance in Shogakukan's "Weekly Post" in the August 11, 2023 issue. On August 30th, she announced on SNS that she would become an AV actress.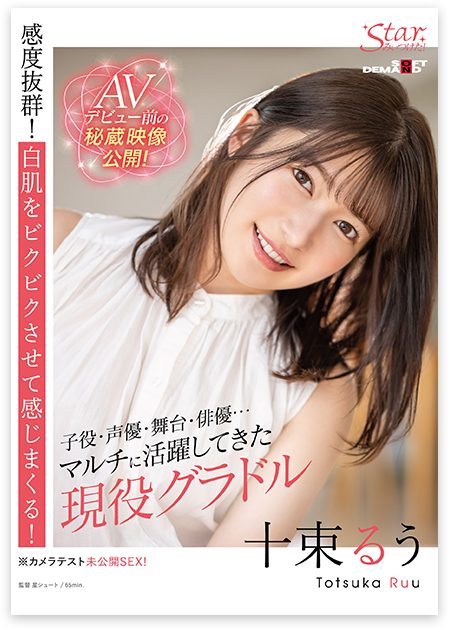 Her debut (code STARS-901-T) came out on SODstar digitally on August 30. A physical version will be released on September 21.