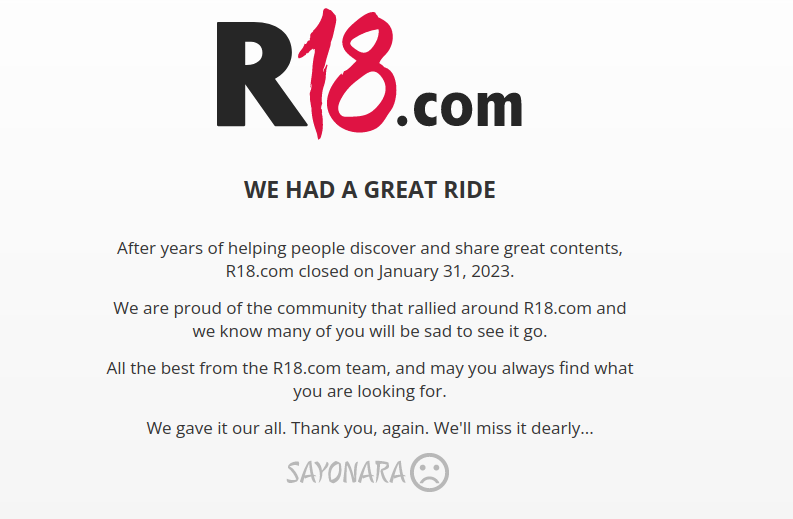 Although R18.com is no longer available, it's still possible for JAV fans outside Japan to buy adult content online. Let's talk about it.
R18 was a popular website that was dedicated to the sale of adult content. It was a hub for Japanese adult videos (JAV), which featured some of the most popular adult actresses in Japan. The website was launched in 2010 and quickly gained popularity among adult content consumers, especially those who were fans of Japanese adult videos.
R18 offered a wide range of adult content, including videos, photos, and magazines. It was a one-stop-shop for all your adult content needs, with a huge selection of categories to choose from. The website was easy to use and navigate, and it offered a variety of payment options to suit different users' needs. It was a great platform for adult content creators and consumers alike, and it quickly became one of the most popular adult content websites in Japan and around the world.
However, in 2021, R18 announced that it would be closing down its operations, much to the disappointment of its fans and users. The decision to shut down the website came as a shock to many, and it left people wondering why the website had to close. There were several reasons behind the decision to close R18, and we will explore some of them in this article.
Firstly, R18 was facing increasing competition from other adult content websites. There are many other websites that offer similar content to R18, and some of them have gained a lot of popularity in recent years. Some of these websites offer more affordable prices, while others have a larger selection of content. As a result, R18 was struggling to keep up with the competition, and it was finding it difficult to attract new users.
Another reason why R18 closed down was due to changes in Japanese laws surrounding adult content. In 2019, the Japanese government introduced new laws that required adult content providers to verify the age of their users. This meant that R18 had to implement stricter age verification measures to comply with the new laws. However, these measures made it more difficult for users to access the website, which may have contributed to a decline in traffic and revenue.
Furthermore, R18 also faced challenges with payment processing. The website relied on third-party payment processors to handle transactions, and some of these processors were becoming increasingly hesitant to work with adult content websites. This made it difficult for R18 to process payments and receive funds, which may have contributed to its decision to close down.
Lastly, the COVID-19 pandemic may have also played a role in the closure of R18. The pandemic had a significant impact on the adult entertainment industry, with many studios and websites experiencing a decline in revenue. R18 may have been affected by the pandemic as well, and the decrease in revenue may have contributed to its decision to close down.
With this, customers lost all the movies they bought through the website. The reason is that in order to watch the content you bought, you had to use R18 video player. Due to DRM, you couldn't use any normal video player like VLC. With the website closing, JAV fans can't access the videos anymore.
Buy JAV movies outside Japan
If you are looking to buy JAV movies (SD, HD or VR) but you're living outside Japan, it's still possible. We noticed that a lot of our customers were also looking for the video files when they're buying subtitles. That's why we launched our "JAV order service". And don't worry, no DRM on the files you'll receive. You'll be able to enjoy the movies on any device, without any restriction. It will avoid you to lost your media library like R18 customers, as you'll own the files on your PC.